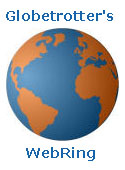 07-13-2000 I started
Globetrotters WebRing
. I love to travel and enjoy surfing on different raveling sites. It therefore seemed fun to start a WebRing to join different sites about travel.
08-28-2003 I decided to delete the ring hosted by Bravenet since they have started to be more and more aggressive with popup-ads and redirects.
Visit the link above to visit the new version of the WebRing, hosted at my domain.